Why The Salvation Army is stuck in Gary Ostrom's head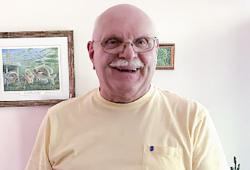 Gary Ostrom, 81, loves The Salvation Army because it connects him to his past. Gary grew up on St. Paul's east side during the 1940s and early 1950s. He has fond memories of what his two uncles used to say about The Salvation Army after they returned from fighting in World War II.
"One of my uncles was wounded in Italy, and the other fought in the South Pacific," Gary recalled. "They always had good things to say about how The Salvation Army helped them during the war."
Years later, Gary's mom started going to the Eastside Salvation Army in St. Paul to connect with other seniors.
"She got involved with all the activities there," he said. "The Salvation Army does so much good for people."
The Salvation Army Northern Division provides millions of meals, shelter for thousands, and other critical services at our dozens of operation centers across Minnesota and North Dakota.
Today, Gary lives in Chisago City and is a widower of six years. He is retired after a 30-year career in sales for a worldwide manufacturer of commercial trucks.
After all these years, The Salvation Army remains his favorite charity.
"The Salvation Army has been stuck in my head since I was 10 or 12 years old," Garysaid with a chuckle. "I like them because they don't ask questions - they just help people."
Gary has established a Planned Gift to The Salvation Army.
There are many types of Planned Gifts, all of which have financial benefits that may allow you to increase the size of your estate, save on taxes, receive income for life, and more.
Making a Planned Gift creates a lasting legacy that supports The Salvation Army and the people we serve far into the future.
To learn more, please call 651-746-3504 or visit TheSalArmyGiftPlan.org.