Retired Professor Honors Late Wife by Donating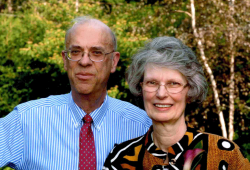 Marvin Bauer spent decades performing research at Purdue University and the University of Minnesota. Among other projects, he used satellite imagery to analyze natural resources for NASA and Minnesota agencies.
His late wife, Jean, was an expert researcher as a family economics and policy professor at the University of Minnesota. One of her greatest accomplishments was leading a groundbreaking 10-year multistate study on rural low-income families.
Together, Marvin and Jean dedicated their lives to making a positive impact on society through their chosen careers.
They also made their mark by giving to charity. After researching many organizations, they selected The Salvation Army as one of their favorites.
"The Salvation Army does all kinds of great things for people," Marvin said.
Among those things is Pathway of Hope, a long-term mentoring program that provides families with the tools they need to get out of poverty and stay out.
"Pathway of Hope aligns with what Jean had been doing her entire career in helping families," Marvin said. "Breaking the cycle of poverty through mentoring and education is so important."
Pathway of Hope serves thousands of families and is offered at every Salvation Army operation center in Minnesota and North Dakota. Together, these centers provide food, shelter and care for nearly 735,000 people annually.
"The Salvation Army's mission highly matches the interests of Jean, and therefore mine," Marvin said. "Giving to it has been an easy relationship to develop and carry on."
Marvin has established a Planned Gift to The Salvation Army.
There are many types of Planned Gifts, all of which have financial benefits that may allow you to increase the size of your estate, save on taxes, receive income for life, and more. Making a Planned Gift creates a lasting legacy that supports The Salvation Army and the people we serve far into the future.
To learn more, please call 651-746-3504 or visit TheSalArmyGiftPlan.org.