Tender Moment leads to 15 years of volunteering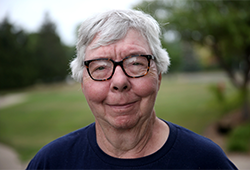 Few Salvation Army volunteers have devoted more time to helping others than Marie Putnam. She's given close to 4,500 hours since 2007. That's an average of six hours per week for 15 years.
Marie's incredible devotion to The Salvation Army stems from a tender moment she witnessed in 2007, when she was in Ladysmith, Wisc., to help clean up after a tornado decimated the community. There, she witnessed Salvation Army food volunteers praying with an old man who was devastated. The tornado had flattened a long row of tall trees the man had planted throughout the course of his life.
"The volunteers were concerned about the man's mental stability," Marie recalled. "They weren't just feeding the body. They were feeding the soul."
At that moment, The Salvation Army became Marie's new favorite charity. She has since performed a multitude of Salvation Army volunteer activities, such as helping kids at our after-school programs, picking up and delivering food, answering phones, and much more.
Through the years, Marie's mainstay volunteer activity has been disaster relief. She has provided food, water and comfort to survivors of fires, floods and tornadoes all over Minnesota and North Dakota. She wants to continue doing so for as long as she is able.
"The thanks that people give you for being there for them is incredible," Marie said. "The Salvation Army's presence makes a world of difference to them. I get back much more than I give when I volunteer."