Disaster opens woman's eyes to The Salvation Army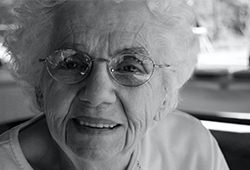 In 1997, Annetta Nies was 69 years old and knew almost nothing about The Salvation Army. She and her husband were retired school teachers living in the small town of Wahpeton, N.D., located 45 miles south of Fargo.
That spring, Annetta witnessed The Salvation Army at work when her community was in crisis. The unthinkable had happened: Wahpeton had succumb to the historic Red River flood of 1997, which caused $4.1 billion worth of damage in Minnesota, North Dakota and Manitoba.
"I couldn't believe it," Annetta said."I'd been living in Wahpeton since the 1950s and I'd never seen anything like it before."
Thankfully, Annetta's house was spared. But her neighbors in the south part of Wahpeton weren't as lucky. Many of their homes were damaged or destroyed. The Salvation Army showed up to help immediately. Annetta watched as our disaster teams provided a continuous supply of food, shelter and transportation for survivors all over town.
"I remember The Salvation Army moving families from their flooded homes to safe shelters," Annetta said."I remember The Salvation Army giving food to everybody."
Annetta joined the recovery effort by baking cookies and bars for The Salvation Army to give to survivors.
"That was the first time I ever saw the work of The Salvation Army, and I will never forget it," said Annetta, now a 93-year-old widow."I've been giving to The Salvation Army ever since."